A weekend guest means a Saturday night dinner. Our dear friend, Mike, is visiting and it was an excellent excuse to pull together an informal table and use my new set of dishes for our guest.


The cute Pfaltzgraff "Winterwood" dishes seems so apropos for the snowy winter night.
The tablecloth was a find at a Goodwill, and I just knew it would bring out the colors in the dishes.
The tone was to be 'for the boys', or at least as masculine as chickadee dinnerware could be, so I threw on the jute runner and the rope-y placemats.
Green straw placemats, topped with braided rope placemats, topped with my architectural chargers that pick up the sage green in the plates.
The grapevine napkin rings were a gift from Kimberly, and the green and burlap napkins were found at Goodwill. It makes the table feel more rustic.
A bird's eye view. I hope I never have to post photos of me in a cast after falling off the chair trying to take 'aerial photos'.
This is a shot of how the placemats were layered....
.....then the chargers......
.....the dinner plates.....
...and finally, the salad plate.
Again, am mixing the colors in the water and wine glasses for some visual interest. Often, I love a monochromatic theme, but not always.
These napkin rings remind me of a bird's nest.
Another shot of how the napkins and the runner compliment one another.
I added my little cast iron birds to keep the chickadees company.
These candles look like sticks, and were a gift long ago from my sister-in-law, Martine. I can't bear to light them. And, while they mysteriously look crooked in the photo, I swear they are not!
See? And, do you also see Santo in the background snooping around for his dinner? Please ignore the countertop, you'll see what I was up to shortly in this post.
Dinner salad of butter lettuce, pears, blue cheese, and candied pecans. One of my favorites.
Boursin potatoes are so delicious and easy! Mix the boursin cheese with some milk (or heavy cream if you are being decadent), add some chopped garlic, finely minced shallot, and chopped chives. Peel and slice the raw potatoes thinly and evenly, and add them to your cheese mixture, stirring to cover the potatoes completely. Just prior to cooking, add a sprinkle of freshly grated Parmesan cheese. Bake in a 350 degree oven for about an hour.
Freshly ground black pepper and a dash of sea salt before they go into the oven. By the way, did you know that you can cut your chives all summer, put them in a zippie bag in the freezer, and pull out what you need all winter long?
The grilled rib eye steaks.
Bon Apetit!



In case you'd like to know:

Tablecloth - Goodwill find

Burlap and cloth napkins - unknown

Jute Runner - Pottery Barn

Green straw placemats - HomeGoods

Ropey placemats - Consignment shop find

Architectural Chargers - Pottery Barn

Dinner and salad plates - Pfaltzgraff "Winterwood"

Green silverware - Cambridge

Green wine goblet - Artland Iris

Gold water/milk glasses (ha ha) - Artland Iris

Individual Ramekins - Palm Restaurant at HomeGoods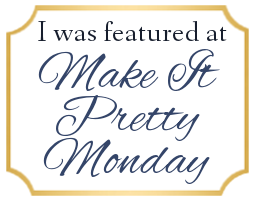 We're joining Susan at Between Naps on the Porch for Tablescape Thursday, the Tablescaper for Seasonal Sundays, Make it Pretty Monday, and Kim at Savvy Southern Style for Wow Us Wednesday.
Click the links below for more tablescape inspiration!
Wow Us Wednesdays
http://betweennapsontheporch.net/wp-content/uploads/2013/07/Tablescape-Thursday.jpg
http://thetablescaper.blogspot.com/
http://thededicatedhouse.blogspot.com