After the labor intensive meal on New Year's Eve,
we always have a simple brunch after our slumber party and
before our guests leave to go home.
This year, it was an easy, make-ahead and refrigerate
overnight egg dish with ham, asparagus, Havarti cheese on a bed of
cranberry wild rice bread.
With Fraboni's hardwood smoked bacon,
made in Hibbing, Minnesota.
A fruit compote of mango, orange, and Honeycrisp apples,
topped with Noosa (the best!!) raspberry yogurt,
then sprinkled with pomegranate arils.
Crate and Barrel individual ramekins sit atop a pine embellished plate
from, believe it or not, L&M Farm and Fleet Supply. Who knew?
Ralph Lauren acorn and pinecone napkins, with
acorn napkin rings atop a twig placemat give us
the woodsy feel for this brunch in the Superior
National Forest.
Our ever-willing photography subject, Kim, ready
to tuck in.
By request, the egg bake recipe:
Serves 4 generously
NEW YEAR'S DAY EASY EGG BAKE FOR FOUR
5 eggs
2 cups of whole milk
8 slices of rustic bread
(I used cranberry wild rice bread)
1 cup shredded havarti cheese
1 cup chopped ham
12 asparagus spears
Cut crusts off of 8 slices of bread,
then slice into thirds for long strips.
Layer bread strips in individual OVENPROOF serving bowls,
2 slices per person.
Add 2/3 of the grated cheese on top of the bread strips.
Sprinkle chopped ham over cheese.
Beat eggs and milk together until well blended.
Pour over bread, cheese, and ham mixture in bowls,
filling nearly but not all the way to the top.
Place three asparagus spears on top of mixture in
each bowl, then
garnish with remaining cheese.
Cover and refrigerate overnight.
Place bowls on a baking sheet, and bake for half an hour,
or until set, in a 350 degree oven.
Allow to cool slightly, then serve.
copyright K Cyriacks 2014
We're joining Kristin for
Inspire Me Monday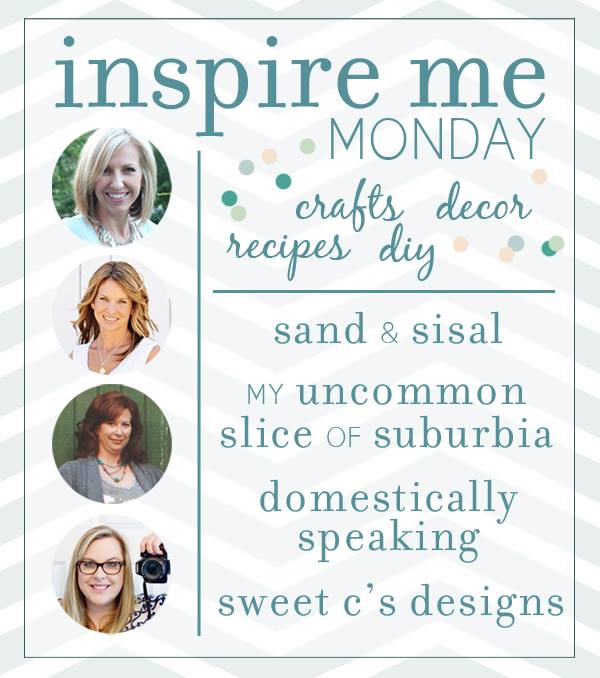 We're linking up with Susan at
Between Naps on the Porch for